Facial fillers rejuvenate the look of the face by restoring volume in areas of the face where it has been lost due to the aging process. In the past, fillers were viewed as a female cosmetic surgery procedure due to the many success stories shared by both doctors and their female patients. Times are changing and men are also interested in having fillers to rejuvenate their look and give them a refreshed appearance. Take a look below to learn more about dermal fillers for men and if they provide male patients with a more masculine or "manly" look.
Reasons Dermal Fillers for Men are Popular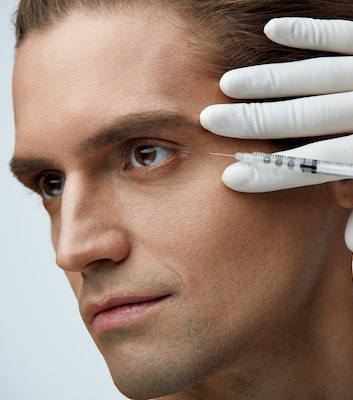 Even though the old ideas about what counts as "manly" did not include dermal fillers, such as eye fillers for men, in the discussion of masculine activities, many male cosmetic surgery patients are taking advantage of the updated views of masculinity including the idea of how men should look and how they should achieve the "male ideal".
As part of the process of marketing fillers to male patients, many plastic surgeons and dermatologist are turning to social media to spotlight "before and after" photos that feature strong jawlines and areas under the eyes that do not show dark circles that make a person look tired.
Doctors also promote filler because, unlike a surgical procedure, the results are subtle and enjoyed with little to no recovery time. In addition, the results are not permanent so male patients that do not enjoy their updated look can relax knowing the results will fade on their own.
Cosmetic surgeons also market the idea that male plastic surgery, and cosmetic procedures like fillers, are a good business choice that help men remain younger in appearance in the workplace. It is also marketed as a way to make an investment in their self-image and public persona.
COVID-19 and Cosmetic Surgery for Men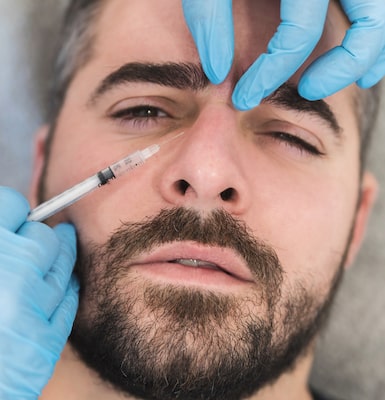 Besides marketing dermal fillers as a method to increase and/or maintain a masculine look to the face, the ongoing concerns related to the coronavirus pandemic have also resulted in an environment where men are more accepting of the idea of investing in their facial appearance.
Because so many men have lost jobs in the last year because of COVID-19 related shutdowns, they are part of a competitive marketplace with a good number of people trying to land a position now that businesses are opening up once again. Male patients want to put their best foot forward and look the most youthful they can during job interviews.
It should be noted that concerns about looking youthful in the working world existed before the coronavirus pandemic. For some men who want to work as models or actors or as professional speakers, the need to look attractive and youthful is often considered one of the job requirements of their chosen profession. Many men feel that getting fillers injected into the face is not much different than following a healthy lifestyle with daily exercise or maintaining proper skincare on a daily basis.
Fillers Risks for Male Patients
Even though dermal fillers are generally considered to be a safe procedure, there are some risks that patients should be aware of before undergoing the treatment. Fillers will dissolve on their own but patients generally go for a follow-up appointment before the filler has completely left their body. This means there is a chance of an unnatural look occurring at some point because of more and more filler be adding to the same area of the body.
Current Fillers Trend – Not Always Going for a Masculine Look
There is a current trend, even for men that normally try to gain a masculine look, that is geared towards a somewhat feminine look. Many male and female patients are looking to gain lips that are a bit larger and even enjoy a somewhat softer look to the skin.
Some men might have a fear that this trend, or fillers in general, can make them look too feminine. Cosmetic doctors understand this fear but they also argue that the types of injections that both men and women receive are not all that different. The locations on the body are quite similar but it can all depend on how much filler is injected into the face. The trend of fillers in male patients, to try and gain a somewhat feminine look, is viewed as helping male patients gain an overall level of attractiveness.
As more products that were seen as feminine items, such as body washes and other bathroom lotions and gels, are marketed to the male population, some of the insecurities men had in the past about their appearance are disappearing. The barriers between male and female dermal fillers seems to be breaking down as more men are welcoming the opportunity to have the treatment. Whether they simply want to add volume to the face or they are worried about remaining competitive in the business world, it looks like dermal fillers for men is not going away anytime in the near future.
- MA