Nicki Minaj is known for her rap skills, her feuds with other artists and her changing look over the years. While everyone begins to have a different appearance as they age, the changes in Nicki's look can be traced back to cosmetic surgery. Cosmetic Town TV recently took a look at the evolving look of Nicki Minaj over the years:
Nicki Minaj Breast Augmentation
One of the first changes Nicki made in her appearance was having a breast augmentation procedure. Minaj already had a naturally curvy figure so the breast augmentation was done to enhance her already ample appearance.
Breast augmentation is performed to increase and enhance the shape, fullness and size of the breasts of a patient. The choice of implant types include silicone, saline and gummy bear as well as increasing the breast volume through fat grafting. Breast augmentation is a good option for patients that over 18 years of age with breasts that are asymmetrical or misshaped. In addition, patients that feel their breasts are too small or have lost volume in them due to aging, pregnancy or weight loss are also good candidates.
When placing implants, the surgeon makes an incision under the breast or in the armpit, belly button or the areola around the nipple. The implant is then inserted above or below the muscle. If the patient is undergoing fat grafting, the fat is removed from another part of the body via liposuction. The removed fat is then injected into the breasts to provide more volume and fullness.
Bodacious Butt Implants
While not performed as often as it was in the past, Minaj made use of butt implants to augment the size and shape of her backside. Butt implants are made of silicone, are somewhat round in shape and can be either textured or smooth. Ideal candidates are women that want rounder and fuller buttocks or have buttocks that are saggy or flat and need their backside lifted to gain a more youthful appearance. Butt implants are normally placed in a pocket of the gluteal muscle. The surgeon makes an incision to create a pocket to place the implants on each side of the gluteus maximus muscle.
As mentioned above, butt implants are not used as often as they were in the past. Many patients now undergo a Brazilian butt lift (BBL) to augment their booty. Excess fat is removed from another part of the body and it is then injected into the buttocks to provide rounder and curvier buttocks. There is little chance of complications or the fat being rejected since it comes from the body of the patient.
Nicki Facial Fillers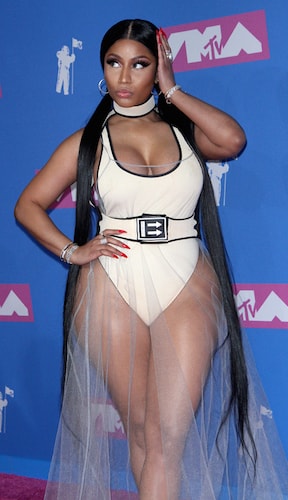 Before discussing her use of facial fillers, it should be noted that Nicki has been suspected of having rhinoplasty (AKA a nose job) to alter the appearance of her nose. She has denied this gossip and maintains that the appearance of her nose is natural.
Since she has not made any alterations to her appearance via rhinoplasty, the changes in her facial appearance have been made through fillers and Botox. These treatments are performed to keep her face looking youthful and rejuvenated while she is on tour or filming music videos.
Fillers lessen lines on the face and also provide volume and fullness to the lips and face. They are made of a variety of substances and are injected into the treatment area to provide volume. Ideal candidate are patients with moderate to severe wrinkles and facial volume loss. It is also a good option for patients with fine lines around the mouth and thin lips.
Botox lessens the appearance of wrinkles and fine lines by limiting the muscle contractions in the area being treated. This allows the muscles to relax and the skin to smooth out and reduce any lines or wrinkles. Ideal candidates include patients with moderate to severe wrinkles on the face.
What is Next for Nicki?
Nicki is 35 years old and is already making use of the above procedures to alter and enhance her appearance. As she continues to age, she will likely use cosmetic surgery to maintain a youthful and rejuvenated appearance. While it is not known what she will have as her next treatment, the Cosmetic Town team will keep you updated on the evolving appearance of this popular superstar.
MA