Cardi B is known for being outspoken on about any topic she has on her mind. Her latest topic of interest is plastic surgery and especially plastic surgery procedures that are related to the booty. The thirty-old-rapper recently advised her fans to think carefully about cosmetic surgery after she revealed that she had '95 per cent" of the previous butt injections removed from her body.
Cardi B – Social Media Warning About Cosmetic Surgery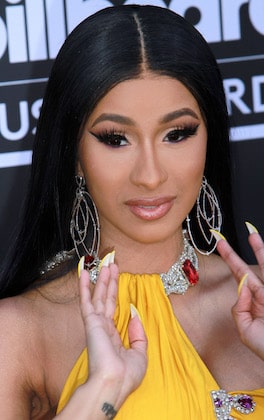 The rap superstar hosted an Instagram Live recently where she encouraged her followers to take the time to think twice before making the final decision to have a cosmetic surgery procedure. During the video, she mentioned that some of her fans assumed she had cosmetic surgery after giving birth to her son over a year ago. Cardi B went on to assure her fans that was not true. Instead, the mother of two made the clarification that she had surgery performed in the past year in order to eliminate some of the injections that were in her body.
The rapper told her fans, "In August, I did surgery and I removed 95 per cent, 95 per cent of my biopolymers, if you don't know what it is, it's a** shots. It was a really crazy process."
Cardi B went on to warn those watching the video about having buttock injections if they are still "young" and have also considered undergoing this cosmetic surgery procedure.
She went on to add, "All I'm going to say is that if you're young, if you're 19, 20, 21, and sometimes you're too skinny, and you be like: "Oh my god I don't have enough fat to put in my a**, so you result to a** shots. Don't."
Cardi B also shared some of the items that the public should keep in mind when they are trying to make the decision to have a Brazilian butt lift (BBL) in order to gain increased volume and an enhanced contour to the buttocks. "When it comes to BBL, if y'all want advice from me, I'll tell y'all this. Before you get your BBL done…you have to make sure your blood levels are all right. If a doctor says that your blood levels are too low or that you have diabetes or something, don't do it."
Brazilian Butt Lift – Possible Risks
According to some medical professionals, a Brazilian butt lift can put the nerves and blood vessels of the patient at risk. There is a risk of the cannula used during the procedure possibly hitting some of the nerves and blood vessels in the treated area of the body. In turn, this might lead to an injury in the treated section of the body as well as a fat embolism or (perhaps) the death of the patient.
Cardi B – Admits to Additional Plastic Surgery
During another portion of the Instagram Live video, the rapper admitted to having rhinoplasty, AKA a "nose job," in the past because she had her "father's nose." Cardi B also talked about not having any problems asking others for advice when it was time for the surgery.
"I'm not even going to lie, when I got my nose done…Somebody from the industry heled me with it. So when somebody asks me for help, I wouldn't mind helping them."
Her recent admission about undergoing cosmetic surgery is not the first time the rapper has opened up about having a procedure. In 2018, Cardi B told GQ that she paid a woman $800 to place fillers in her buttocks while she was living in an apartment in Queens.
She told the magazine, "They don't numb your a** with anything. It was the craziest pain ever. I felt like I was gonna pass out. I felt a little dizzy, And it leaks for, like, five days."
Even though the procedure was performed illegally by the woman who was paid the $800 by Cardi B, the interview also contained a confession by Cardi B that, at the time, she was planning on contacting the woman in the future to perform a follow-up procedure with additional injections. "But by the time I was gonna go get it, the lady got locked up 'cause she's supposedly killed somebody." Cardi B went on to clarify that statement to say she meant "somebody died on [the woman's] table.
As shown in this article, Cardi B likes cosmetic surgery, and she does not mind sharing news and information about her various procedures. While there are many movie, TV, and music superstars that make the decision to have celebrity plastic surgery, they are not always as open and honest about the subject as Cardi B. Her willingness to share her experiences can help her fans in the future as they learn about the changes the rapper made to her appearance through cosmetic surgery. Her fans will have the ability to research the treatments discussed by Cardi B in order to decide if it is the right choice to make for their own look and life.
- MA