There are some women that have breast implants placed in the body to gain a more contoured look to the breasts and to achieve the breast size and shape they have always desired. A personal trainer in Australia received breast implants because the old appearance of her breasts made her feel self-conscious. Once she decided to have the breast implants removed, a doctor told her not to get rid of them because of the impact it would have on her figure.
Australian Personal Trainer History of Breast Implant Issues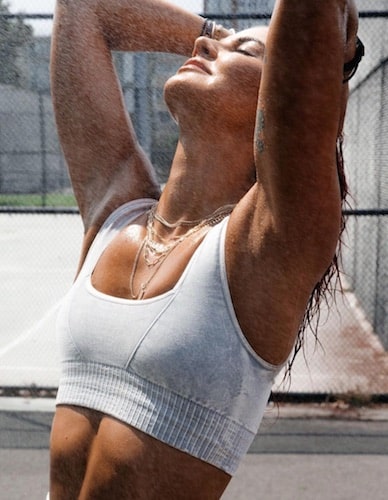 Bec Donlan, the 33-year-old founder of "Sweat with Bec", made the initial decision to have breast implants placed in her body when she was 22 years of age. She wanted to make a change in the look of her breasts because she did not like the comments others made about the appearance of her concave chest wall.
Even though she loved her new look, the New York-based fitness instructor, began to experience multiple health issues including inflammation of the breasts, chronic fatigue and (in her words) "crazy stomach problems".
While she had heard of illnesses related to breast implants, she did not think they were all real. Plus, she really liked her breast implants and did not necessarily want to have them removed at the time.
Three years after receiving her breast implants, Donlan work up one day with an "insane" amount of fluid located around one of her two breast implants. She told an interviewer that the breast with the fluid around it was "twice the size of the other. I went to the ER and got an MRI and an X-ray, but the doctors couldn't tell me what was wrong and just gave me antibiotics."
She added that she experienced the same issue a few years later. She was told by doctors that she was likely suffering from a bacterial infection.
Her health continued to get worse and she suffered from the loss of her hair and chronic fatigue. She also started to gain weight even though she was working out twice each day. Her health issues also included Hashimoto's disease which is an autoimmune disease that results in damage to the thyroid. This disease might likely be the reason for her constant fatigue and weight gain.
Australian Personal Trainer Breast Implant Removal Decision
In July of 2019, Donlan learned that the type of breast implants placed in her body had been recalled by the pharmaceutical company that manufactured them. They were recalled because the FDA discovered they put women at a severe risk for lymphoma.
She reached out to her original plastic surgeon who advised Donlan not to have them removed. The doctor believed that the breast implants were okay and not related to her ongoing health issues.
Donlan experienced inflammation of the breasts again so she decided to visit another doctor. This doctor advised her to have them removed ASAP. While Donlan enjoyed the appearance of her breasts provided by the implants, she decided to choose her health over the aesthetic appeal of having the breast implants.
The Battle to Have the Breast Implants Removed
Once Donlan made the decision to have her breast implants removed, she was faced with the issue of her doctors refusing to remove them. According to Donlan, the doctors told her they wouldn't perform the procedure because the results would not look good. One doctor even told her that she has a "Sports Illustrated body" and he did not want to leave her with a terrible appearance.
She finally found a doctor in Beverly Hills that would perform the breast implant removal procedure. The doctor told her that the results would not look great but that he had a plan that involved removing the implants. He decided to remove the breast implants and then let her body heal from the surgery. Once the recovery process was completed, the doctor would discuss breast fat transfer options with her.
Post-Breast Implant Removal and Recovery for Bec Donlan
Even though she was told that breast implant illness (BII) was not a medically recognized medical condition, she learned that the many health issues she had suffered from over the years were all listed as symptoms of breast implant illness.
While Donlan was not a big fan of her appearance after the breast implant removal surgery, she did say she felt better right after the surgery. Donlan started to see an improvement in both her complexion and her health the same day as the surgery. She said the whites of her eyes were brighter than they had been in years thanks to not "carrying that toxic load anymore." She also said the tone of her skin was better than before the surgery.
When asked why she decided to go public with her surgery, she said "If I hadn't made this public, I probably wouldn't have left my apartment. It's a way of holding myself accountable and making myself not feel ashamed."
MA